Hi everyone! It's time for another Book Traveling Thursdays. This weekly meme was created by Catia @ The Girl Who Read Too Much and Danielle @ Danielle's Book Blog. Below is all of the info. All copyright goes to the Goodreads Group.
1) Pick a book! At the beginning of every month a list of themes will be posted. All you have to do is choose a book that fits the theme.
2) In your blog post, the first thing you will want to include is an explanation of why your chosen book fits the theme.
2) Look at covers from multiple editions and multiple countries for the book you chose.
3) Finally, include pictures of the original cover, the cover from your country (if their are multiple covers from your country include all of them!), your favorite cover, and your least favorite cover.
4) Be sure to tag your posts with booktravelingthursdays so we can all see each other's posts!

This week's theme is:

January 28th – Because some books stay with us forever!! Choose a book you want to re-read in 2016.
I want to reread several books but one of them would be Fangirl. I just read it but will try to read it again sometime this year.
Original Cover and My Country (US):
Favorite cover(s):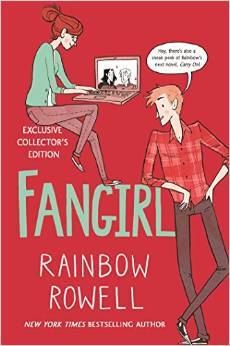 English
Indonesian
English
I love the collector editions. The Indonesian one is adorable!
Least Favorite Cover(s):
Serbian
I could only find one I didn't enjoy. This one just doesn't represent the book to me.
---
Thanks for reading and stay tuned to next week's Book Traveling Thursdays!
~Makayla the Bookworm 😀