Hey everyone! I haven't done a tag in such a long time!! Today I have decided to do The Book Love Tag. I was unofficially/officially tagged by My Tiny Obsessions. You should definitely check out her bookish and obsession blog! I have a lot of love for all things bookish. This should be good!
Without further ado, here we go!
---
1) Favorite Book Couple.
This is so hard!! I'll just say one of them: Levi and Cath from Fangirl. The way Levi loves Cath through everything is so sweet! If you haven't read Fangirl yet.. what are you waiting for?!
2) Your Top 3 Book Boy/Girlfriends
This is going to be tough..
1)Harry and Ginny
2)Katniss and Peeta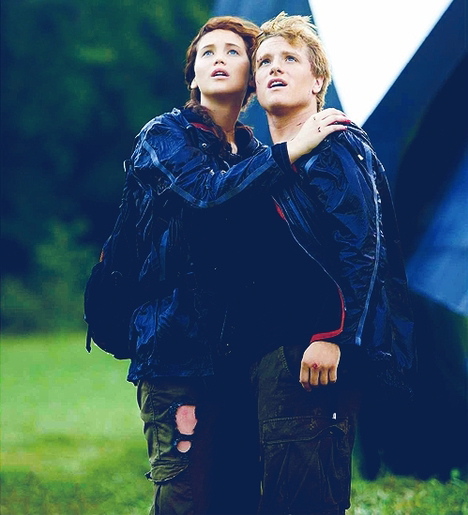 3) Ron and Hermione
@Pinterest
3) Imagine Your Favorite Book Couple. Who Would Propose, and How? (If there's already been a proposal: Who Would Be More Into Organizing the Wedding?

*Spoilers*
I'm going to pick Harry and Ginny for this one. In the Deathly Hallows, in the nineteen years later part, they are married. In the book there was no proposal so I'll describe that 🙂
Harry would be the one to propose. He would probably propose at the end of their time at Hogwarts after the big battle with Voldemort and everyone is safe. Harry would probably do it on the Quidditch field. It would be special and romantic.
@nathaniemmett.tumbler.com
4) Unpopular Opinions Time! Name a Popular Couple You Can't Stand.
I can't stand Bella and Edward from Twilight. The funny thing is that I haven't read any of the twilight books.
5) What's Your Favorite and Least Favorite Romance Trope.
I had to look up the meaning of "Romance Trope" and still have no answer.
6) Do You Ship Non-Canon Couples Often? Name Some If You Do.
I had to look up "Non-Canon Couples" I seriously need to learn these XD I don't read fanfiction so once again, I have no answer.
7)Your Opinion On Love Triangles. Go!
I have no problem with Love Triangles as long as they are done right. Most love triangles drive me nuts though. I guess I'm on the fence with this one!
8) Favorite and Least Favorite Love Triangle.
I'm enjoying Hermia, Lysander and Demetrius in the Midsummer Night's Dream. We are reading that in school and it's seriously messed up. It's more like a love square with Helena.  I don't like the partial love triangle in Fangirl. It's between Cath, Levi and Nick.
9) Sometimes Romance Just Isn't The Way To Go. Favorite Friendship?
This one is very tough!! I'm going to say.. Leah and Nick from Simon vs the Homo Sapiens Agenda. I can't gush enough about how much I love their friendship and how the book is going.
10. What's your favorite scene with your bookish OTP?
This question is too hard to answer…
11. Imagine Your Favorite Book Couple Again. Who's Most Excited About Valentine's Day (Either Ironically or Genuinely)
This is definitely a tough one. I'm going to say Harry. He seems like he would take every chance he could to show Ginny how much he loves her.
Oh my gosh, I loved this tag so much! That's why I tag EVERYONE who wants to participate 🙂
Thanks for reading and stay tuned for more book tags!
~Makayla the Bookworm 😀