Hey everyone! It's Tuesday and that mean's it's time for Top Ten Tuesday! This amazing meme is hosted by The Broke and the Bookish. You definitely need to check them out if you haven't already. This week's topic is:
Top Ten Bookworm Delights

Top Ten Bookworm Delights:
Finding a book you've been looking for forever! 
Everyone knows this feeling! It's always exciting to finally hold a book you've been searching for 😀
2. The smell of new books. 
Oh my gosh! It's so satisfying to smell a brand new book. If you're a bookworm you definitely know this feels.
3. Finding someone who loves books as much as you do!
This is such an amazing thing! WordPress helps me connect with all the amazing book bloggers who share the same feelings as I do about books. I love you guys 🙂
4. Going to a bookstore!
You can finally get a book and not have to worry about fines! They are quite expensive though…
5. Wanting to meet the author of a book 
This feeling every bookworm can't go without! There are so many authors I need to meet. Sadly, I've only met one 😦
6. When the book cover is too beautiful to handle.
This doesn't need much explanation. Book covers just amaze me sometimes.
7. When your friends and family get you a book you've wanted forever!
This is the best thing ever! You get a book you wanted for free! Plus whoever bought it becomes your absolute favorite person in the whole world.
8. When there's a sequel to a book you loved!
Finding out you can continue raving, fangirling and so much more over the characters is the best feeling ever!
9) Being part of a book fandom
It's great to be able to express your opinions with people who understand what you're going through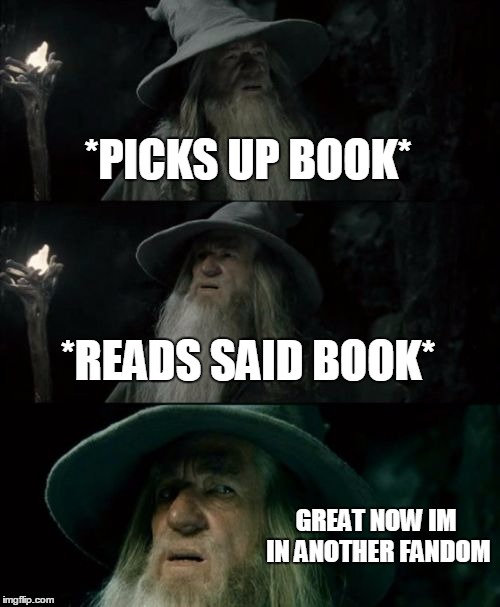 10) When there's a plot twist you didn't see coming 
This can either make you hate the author or start freaking out. If you're lucky it can be both. Authors seem to like to see the readers suffer.
---
This was definitely a fun topic! What are your bookworm delights? Did I forget any important ones? Let me know! 
Thanks for reading and stay tuned for more Top Ten Tuesday!
~Makayla the Bookworm 😀