Hey everyone! I couldn't think of anything to do for the Top Ten Tuesday topic for this week. I have decided to share with you, books I'm looking forward to this year. This list will definitely grow as the year goes on. These are all by authors that I love. Are you looking forward to these releases as well? Let me know!
---
1) Always And Forever, Laura Jean by Jenny Han
The conclusion to the three book series To All The Boys I've Loved Before.
Release Date: April 4th, 2017
Lara Jean is having the best senior year a girl could ever hope for. She is head over heels in love with her boyfriend, Peter; her dad's finally getting remarried to their next door neighbor, Ms. Rothschild; and Margot's coming home for the summer just in time for the wedding.

But change is looming on the horizon. And while Lara Jean is having fun and keeping busy helping plan her father's wedding, she can't ignore the big life decisions she has to make. Most pressingly, where she wants to go to college and what that means for her relationship with Peter. She watched her sister Margot go through these growing pains. Now Lara Jean's the one who'll be graduating high school and leaving for college and leaving her family—and possibly the boy she loves—behind.

When your heart and your head are saying two different things, which one should you listen to?
---
2) The Upside of Unrequited by Becky Albertalli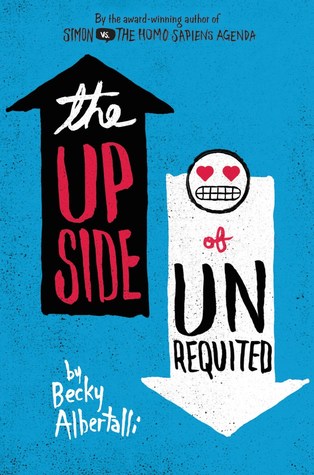 Becky's second novel!!
Release Date: April 11th, 2017
Seventeen-year-old Molly Peskin-Suso knows all about unrequited love. No matter how many times her twin sister, Cassie, tells her to woman up, Molly can't stomach the idea of rejection. So she's careful. Fat girls always have to be careful.

Then a cute new girl enters Cassie's orbit, and for the first time ever, Molly's cynical twin is a lovesick mess. Meanwhile, Molly's totally not dying of loneliness—except for the part where she is. Luckily, Cassie's new girlfriend comes with a cute hipster-boy sidekick. If Molly can win him over, she'll get her first kiss and she'll get her twin back.

There's only one problem: Molly's coworker, Reid. He's a chubby Tolkien superfan with a season pass to the Ren Faire, and there's absolutely no way Molly could fall for him.
---
3) History Is All You Left Me By Adam Silvera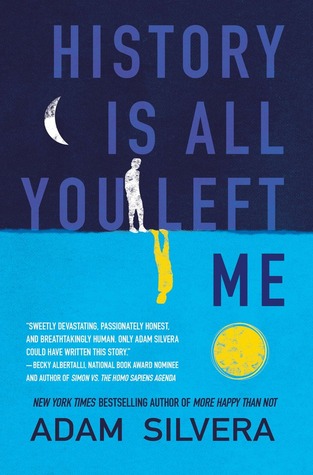 Adam's second novel!!
Release Date: January 17th 2017 (In One Week!)
When Griffin's first love and ex-boyfriend, Theo, dies in a drowning accident, his universe implodes. Even though Theo had moved to California for college and started seeing Jackson, Griffin never doubted Theo would come back to him when the time was right. But now, the future he's been imagining for himself has gone far off course.

To make things worse, the only person who truly understands his heartache is Jackson. But no matter how much they open up to each other, Griffin's downward spiral continues. He's losing himself in his obsessive compulsions and destructive choices, and the secrets he's been keeping are tearing him apart.

If Griffin is ever to rebuild his future, he must first confront his history, every last heartbreaking piece in the puzzle of his life. 
---
4) Honestly Ben By Bill Konigsberg
The sequel to Openly Straight!
Release Date: March 28th, 2017
Ben Carver is back to normal. He's working steadily in his classes at the Natick School. He just got elected captain of the baseball team. He's even won a full scholarship to college, if he can keep up his grades. All that foolishness with Rafe Goldberg the past semester is in the past.

Except . . .

There's Hannah, the gorgeous girl from the neighboring school, who attracts him and distracts him. There's his mother, whose quiet unhappiness Ben is noticing for the first time. School is harder, the pressure higher, the scholarship almost slipping away. And there's Rafe, funny, kind, dating someone else . . . and maybe the real normal that Ben needs
---
5) Panda-monium By Stuart Gibbs
The fourth book in the Fun Jungle series for Young Teens.
Release Date: April 4th, 2017
Teddy Fitzroy returns as FunJungle's resident sleuth when the zoo's newest addition goes missing—before she even arrives!

FunJungle is frenzied, awaiting the arrival of its most thrilling animal yet—Li Ping—a rare and very expensive giant panda that the zoo went to enormous lengths to secure. But when the truck transporting Li Ping shows up, its precious cargo has vanished into thin air. The FBI steps in to investigate, and Teddy is happy to leave the job in their (supposedly) capable hands. After all, FunJungle has never encountered a crime this serious. But when someone threatens to blackmail Teddy's girlfriend, Summer, if he doesn't solve the crime, his involvement in this mystery is no longer black and white.
---
That's a wrap! These are five books that I'm looking forward to reading so far this year. What books are you looking forward to? Let me know!
Thanks for reading and stay tuned for more book posts!
~Makayla the Bookworm 😀